Regional brand


The Bohemian and Moravian regions give birth to a wide variety of products linked with tradition and craftsmanship of the local people, high-quality and friendly to the environment. Regional brands will help you to find such products and to enjoy the spirit of our regions in a unique way.



You may not know that...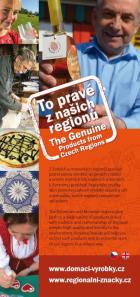 • our regional brands have been working since 2005 in the Czech Rep.
• the number of the awarded brands has reached 1 and it is still growing
• each logo has its specific meaning linked with the region
• besides local food and craftswork, the brand has been awarded also to shoes, postcards, timbering houses, tiled stoves, bio-briquettes, poppy seed, carps or herbs
• almost all these regions publish bulletins called "At home in ..." (Beskydy, Krkonoše etc.)
• the regions are united in the Association of Regional Brands (ARZ), which is developing and co-ordinating the brands on the national level
• the regions of ARZ cover one third of the Czech Republic
• in the Šumava region, they extend the brand also to accommodation and gastronomic services, other regions intend this step as well.
Visit our website www.domaci-vyrobky.cz with more interesting info and set out to our regions to explore the branded products and services!



Branding of local products in the Moravian Karst


Local product branding scheme "The Moravian Karst – regional product®" started up in 2007. This brand means that products passet through strict certification process, which guarantees their origin in the wider Moravian Karst. Local origin is not the only condition for a product to be branded. Branded products have to contribute to the good name of the region and be of a high quality, environmentaly friendly, unique in relation to The Moravian Karst – i. e. made by traditional technology, handmade or made from local materials, unique by its high quality. Brand is granted by The LAG Moravian Karst to craft products, agricultural and natural products. Aim of the branding is to promote the region of The Moravian Karst and to help local producers. 
LAG Moravian Karst cooperates with producers and salespersons of certified products in promotion and marketing. They create a network of regional shops, organize common presentations on fairs and exhibitions, support and help to create excursion sites on farms and in production facilities. These places are also new tourist attractions and "packages" for visitors of The Moravian Karst.